Stickman Warriors Fatalify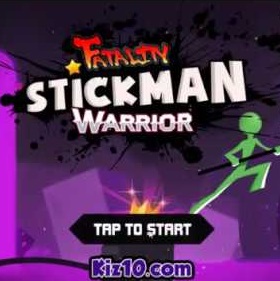 Description
:
Stickman Warriors Fatalify
"Stickman Warriors Fatalify is a fighting game extremely cruel. You will control your stickman character to move around the screen, hit the opponent, hit the head or body and damage it, causing its energy level to decrease until losing its life.
Your opponent can do the same thing you should so be very careful.
While destroying opponents you also need to collect the pieces of glass scattered on the arena to increase the size of your stick and also always guard against weapons. Pick up weapons and use them to defeat the opponent. Try to avoid taking damage and keep moving.
Destroy rival characters to enter the following levels, in this game there are many levels, each level is different difficulty. There could be sharp blades in it. You have to find a way to destroy the opponent and avoid the blades so that it will not kill you.
This game is a great fun and you will find yourself coming back to the arena over and over to compete for the top spot, you will very quickly love this game. Moreover this game is completely free, so players do not have to worry about losing money when playing.
This is a very interesting game to help you reduce stress after a long day of studying and working. You can play online or download to play when there is no internet connection. Playing online will help you save your results and put it in the global rankings if your results are high.
New versions of this game will be constantly updated, helping you play with different skins and the level in each game level also increases.
How to play Stickman Warriors Fatalify game
Stickman Warriors Fatalify to play you just use the left mouse button and move the mouse around to let your character move and attack. "