Ricochet Kills 2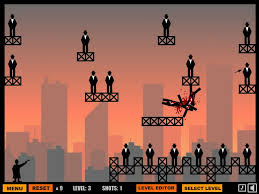 Description
:
Ricochet Kills 2
Ricochet Kills 2  is a simple shooting game. Your mission is to destroy all enemy troops in each area with a certain number of bullets. You will be brought into an area where there are many enemy troops arranged in different positions, using your gun to shoot arrows to destroy the enemy troops. If your arrow doesn't hit or is shot down, it will bounce back, hitting walls and frames until it sees the target.
There are many levels in this game, each level being a different challenge. Each level will have a certain number of enemy troops, the more at the next level, the more the enemy troops will increase, which will make it harder for you to destroy the enemy.
Because your number of arrows is limited, you must use them properly to destroy a large number of enemies, if you use all but the enemy, you will fail.
You can play this game many times to improve your skills and become a marksman gunner.
This relaxing game will help you reduce stress after a long day of studying and working. You can play online or download to play when there is no internet connection, when playing online will help you save your results and put it in the global rankings if your results are high.
New versions of this game will be constantly updated, new versions help you play with different interfaces and the level in each game level also increases.
The game is completely free to play, so you can play it anytime without worrying about the money.

How to play Ricochet Kills 2

Ricochet Kills 2 is played using the left mouse button. You will move the mouse to adjust the appropriate firing direction and left click to fire the gun. This game and the website games will help you have a rich experience.