Contest Winners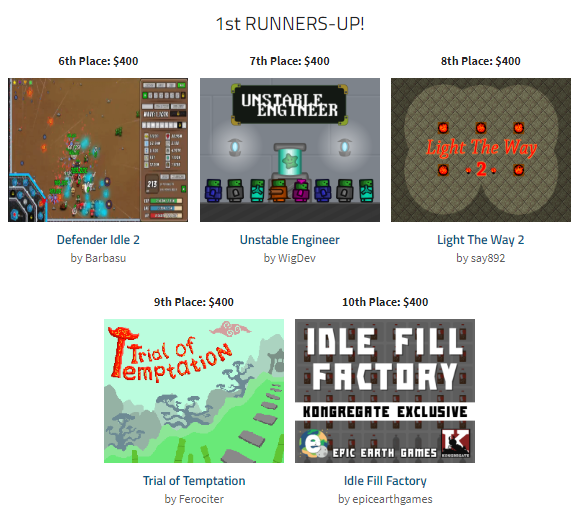 Description
:
The following is the experience and sharing of the top 5 winners when developing top games.
First-Place Winner
EPGstudios, developer of 5 Steps Steve
Initially, 5 Steps Steve is just a game that was tested within two days. However, I received very positive feedback shortly after that and decided to turn 5 Step Steve into a full version. In general, we are delighted with what we have achieved; this game comes from design to technology
With the popularity that five steps Steve achieved, I will try to develop the sequel within the next 4-8 months
And after all, I want to thank everyone who has helped to make Steve's five steps so brilliant
Second-Place Winner
When I was young, creating DOS games was always my hobby. After that, work, family, children, made me busy, and it was hard to have free time to work for my projects. One day, I decided that I really should fulfill my dream of completing the development of a game. With the support of my family, I spent every day of my goal. I love the dungeon gathering mechanism of Magic Tower and Fairune's battle system, so I decided to find a way to combine both features, and finally, Magirune was born. After creating the game, there are still some shortcomings, but thanks to the encouragement and encouragement of everyone, Magirune becomes more and more perfect.
Next time I will continue with my passion and return to more perfect projects.
Third-Place Winner
MontiGames, ANOVA developer: Hello, everyone! Thank you very much to all of you who rated ANOVA very high and helped us achieve the goal that we did not even expect! When developing this game, our goal is not to race against the rankings; we want to fulfill our passion.
Initially, we have created some favorite games on mobile devices for the Skillz platform. This experience culminates in a new relationship with Pogo.com, where we continue to help work on original titles but also transfer some of their legacies Flash titles to HTML5.
After that, we came up with the idea for ANOVA about a year ago and are gradually improving it. It is very pleasing to witness the popularity of this game and look forward to receiving many contributions from you. It seems strange, but we appreciate all the feedback – even negative feedback – because it tells us where to improve and offers the complete version for you.
Fourth-Place Winner
Gun_Safety, a developer of When he jump, go up like this: Thanks to everyone on Kongregate for playing, reviewing, and giving feedback to WHJHGULT so far. It was a project I made last year – but not often and continuously, only about 3-4 months ago I focused and gave the best product to you
What helps me more than anything is learning how to ask the right questions, and asking who. Know when to search for Google or when to browse Stack Overflow or when to go to Unity Discord or when to ask one of my professors or a friend.
In short, I think everyone has a different learning method. So the important thing is how you learn how to create them. Thanks again to everyone who helped me
Fifth-Place Winner
Nov, developer of FireBlob: Hello again!
I am continuing to love my game, and the Kongregate platform and user base have been beneficial. Thanks to the developer 's support from websites like Kongregate, I have more convenience to develop my games and thanks to the feedback of the general user, it shows me some errors that I can give. Get the best version for the player. The result is the creation of FireBlob
Thanks everyone.
Congratulations to the remaining winners below!