Tank trouble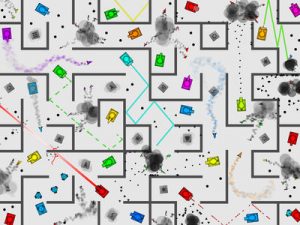 Description
:
Tank Trouble
Tank Trouble navigates tanks through mazes to destroy other tanks. The game is completely free and compatible with most Android, iOS, and computer devices that help players play anywhere, and whenever they want.
You can choose one of two game modes to play against the computer or compete with up to 2 other players. For competitive play mode, you need to be with a real friend in front of the equipment and play. For computer mode, you can play it anytime, not depending on the game.
Control your tank to move flexibly through the maze and use cannons to destroy enemies and avoid bullets of enemies and your own. The cannons mounted in your tank have an unlimited number of bullets. Drive your tank around the maze, shooting cannons at enemies to destroy them. The bullets fired from your cannon will bounce against the wall and shoot until the force weakens or the target is found and you can be the target.
Your enemies also travel throughout the maze, firing bullets with similar features to you, skillfully using bullets and avoiding bullets very well.
Each player is given a certain number of lives. Players are revived when destroyed if destroyed all life will lose.
The weapons that appear in the maze help the acquirer to be more powerful, there are different types of evidence that players can collect that are rockets, rattling, laser guns, bullets. You and the enemy can collect weapons when they appear.
How to play Tank Trouble
Use the mouse and arrow keys to move if you play with the machine.
When playing with two other people, use the following controls:
Player 1 uses WASD to move and Q to shoot.
Player 2 uses the arrow keys to move and M to shoot.
Player 3 drag the mouse to move and use the left mouse button to shoot.