Monkey go happy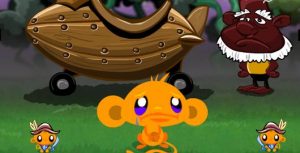 Description
:
Monkey go happy
Monkey Go Happy completes interesting puzzles by combining objects into one complete action to keep the monkey happy.
Your monkey is crying and crying, it's pitiful and you need to perform simple actions such as cutting coconut, cutting trees, lighting matches to set fire strings for rockets, taking bananas, blowing fire, playing video games, … Simple actions very close to everyday life, performing a combination of objects together. For example, there is a gun, and many ducks, you will take this gun to shoot at the passing ducks, shoot enough ducks to pass the level. Or you are playing a boling game, you need to take the boling and throw down all the bottles on it.
The objects are arranged in different positions, based on your daily knowledge to create specific actions, and the actions may be easy or difficult, you need to use flexible, sensitive to complete the action.
The game has a countdown time, you will play the levels within the specified time, when time runs out you will play again from the beginning. Time is summed for levels, as you pass each level, time decreases. When you play again and again on a level, time will still count down, so you need to quickly finish the level to become the best player. You can share your achievements with your friends through social networks or be on the leaderboards if you get a high score.
When you complete each level, there will be arrows when you click on it, you will play at the next level. The later the level, the more difficult the puzzle will make you feel happy.
The game is a clever combination of objects, with simple gameplay but requires flexible thinking, the game will give players fun entertainment time and help players practice their creativity. good.
How to play Monkey go happy
Monkey Go Happy by clicking to make navigation, select items and arrange or link them together to create actions.