Basketball legends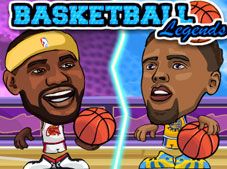 Description
:
Basketball legends
There are many popular online sports games like Stick Figure Badminton, Qwop, Football Legends 2019, Basketball 2018 in which players highly appreciate basketball Legends game.
Players highly appreciate basketball Legends because this game has a user-friendly interface, smooth graphics, vibrant sound, simple gameplay along with exciting content that gives players a great experience. When participating in the match, the player will be able to perform fast and robust movements, combined with a clever move to score goals and defeat the opponent.
Basketball Legends is a basketball game with many game modes, and you can choose your character and the opponent and choose a basketball team of your own. In the end, you only need to send the ball to the net more than the opponent, and you have won.
How to play Basketball Legends:
Use the left, right arrow keys or the A and W keys to move left or right. To perform a high jump action, you will use the up arrow key or W.
You can dazzle the opponent and steal the ball, then throw the ball into the basket with the X (or L) key or make a super throw by Z (or K) key.
You can smash the ball to get more power by using the down arrow key or the S key.
How to win the game Basketball Legends
To make a beautiful and accurate shot, you need to use a combination of character keys to perform your skills.
You need to use a combination of your abilities to make the fastest and most accurate shots. Jumping and throwing will bring more power to you. Training in training mode helps you master the skills before participating in the match.