Run ninja run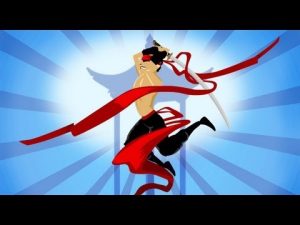 Description
:
Run ninja run
Run Ninja Run will automatically move forward, if he smashes into a wall or other ninjas or falls into various gaps and pitfalls, he will lose his life. There are many deadly traps, or just significant mountains and bottomless pits, all of which you didn't even know about. Only when going step by step and not overcoming, losing your life and playing from the beginning will you have a quick look at the dangers. If you lose your life, you will start from the beginning of that period.
You can run, jump to conquer everything, use the ideal attack kick to defeat the ninja on your way. Jump over the rocks and crawl under ravines or buildings at the perfect time to cross them.
There are many levels with difficulty levels, challenges, and many different ninjas, all of which will increase the appeal of the game. In each level, you have to overcome the challenges to reach the tent, light the torch and sleep a good sleep after a long battle to prepare the mind as well as energy for the battle.
There are challenges that only when you upgrade your skills can you overcome. Skill upgrades are purchased for a certain amount of gold. These gold bars you need to collect along the way, accumulate them to upgrade your ability to jump higher, slide more or increase your attacks.
The fast speed of this game requires you the flexibility to handle situations promptly and conquer the game. The fact that the game involves flexibility and accuracy to control the character soaring, sliding, and using slashes at any time if you do not use a flexible combination of those skills you will be very easy to lose a life. The rapid loss of life will make you quickly bored and give up this game. But in return, your reaction will certainly be more flexible thanks to the action game like this.
Ninja games can give you a spectacular but quite engaging action along with unexpected challenges.
The game is completely free and has no time limits, and the game is compatible with many Android, iOS and pc devices so you can play it anywhere.
In addition to streaming on the internet, you can download it to play whenever there is no regular online connection. But playing online can allow you to save results and share with other players to share with friends and family via social networks.
How to play Run ninja run
Run Ninja Run is played using the up arrow key to help the ninja jump, down arrow to slide, the spacebar to use the sword, the left mouse to buy technical upgrades.