Tank trouble 3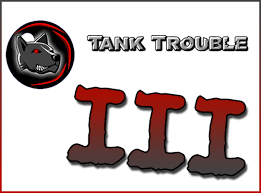 Description
:
Tank Trouble 3
Tank Trouble 3 is one of the exciting action games. In which the player will navigate his tank on the maze and destroy the other tanks to become the ultimate survivor.
The game has different game modes, choosing one of three game modes, 1 player mode, two players and three players. In each mode, players need to control their tanks cleverly move on the maze and destroy the other vehicles to become the last one. Destroy all tanks, players will move to the next level, the new maze.
1-player mode: Click on the control and navigate your character to make it move easily and fight random characters installed by the computer.
2-player mode: Click on one of the two controls and play with an actual friend sitting in front of the computer screen and join in the fight.
3-player game mode: Click the control mode and play with two other real friends sitting in front of the computer screen.
Take a look around the maze, analyze and select the appropriate strategic location, depending on your abilities, be it defending, or attacking to destroy enemies.
Move around the maze, aim and shoot shells at enemies. Players are provided an unlimited number of shells and can fire multiple shells in succession. The bullets fired by players will reflect in different directions until they meet the target or disappear. Both players and opponents have similar abilities. Players must both avoid the onslaught of the opponent, while avoiding their own bullets.
Each tank can pick up items in each maze, items that help increase the power, items that players can collect to improve their weapons such as missiles, lasers. , … Different weapons bring different powers to the player, helping them kill the enemy easier and faster.
How to play Tank Trouble 3
Use mouse to navigate the tank and left click to shoot. Use ASDW to navigate and Q to shoot. Use the arrow keys to navigate and M to shoot. Players can choose one of three controls for their vehicles. Depending on the control that suits the player best, help win