Secret Agent James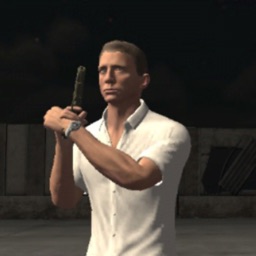 Description
:
Secret Agent James
Secret Agent James is an extremely interesting shooting action game. The game includes 60 challenging missions to complete. Alone against members of various Mafia corporations who are scrambling for power.
You will move with your weapons around the city, looking for other weapons and various supplies to complete your mission. You have to move and act quickly and shoot a gun continuously at the enemy to destroy your enemies before they have a chance to destroy you.
There is a compass to let you know where your enemies are gathering and proceed to destroy them. They will gather in groups of about 10 people, each with a gun and approach you, then quickly shoot at them. When you destroy them, they will leave money or a medical box, you collect these things to help you complete the task. There may be many barrels with deadly weapons and items. You can use that money to buy interesting upgrades. Carl Time has the ability to slow down time.
Shooting game with great graphics, combining intense and fun gameplay, and the fire and explosion are realistic that will take you to a new world, a world of skilled gunmen .
Train to be the top shooter, and become the best player in this game.
This game is completely free to play and can be played by anyone of any age. But it is best for children not to play violent games like this one.

How to play Secret Agent James

Secret Agent James has the following controls:
WASD or arrow keys to move around
Right click or X to throw grenade
Left click or Z to fire
Left shift or C to activate Carl Time
Scroll wheel or Q or E to cycle weapon
E to enter vehicle
Join the game and enjoy the fun it brings to you.