Hard Life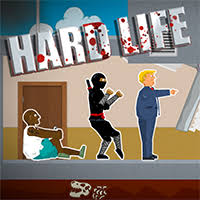 Description
:
Hard Life
Hard Life is an exciting action game in which players complete challenges to the finish line. You have to control a character running forward and help him avoid countless life-threatening incidents and obstacles, survive the dangers, earn stars and unlock new characters.
His life-threatening obstacles can be a material container that can explode when he touches it, or a landmine button, or a guillotine, blades that move continuously – very scary. … by cleverly moving past those objects, taking him safely to the finish line.
When you are touched they may lose some parts of your body or most likely lose your life. If you lose a part of your body and you can keep going, the game will continue.
The game has 10 levels of difficulty which are very interesting challenges for you. Each level has deadly pitfalls for you to overcome it.
The game provides risky images, a lot of blood comes out when you are stabbed, when you lose parts of your body like arms, head, legs or when you are blown to pieces .. … All are very scary images. So this game is suitable for thrilling lovers; Children or people with low spirits should not participate in this game.
This game is completely free to play, so you don't have to worry about paying more. It also helps you a lot in reducing stress.

How to play Hard Life game

Hard Life is moved through the arrow keys. Left and right arrow keys for you to move forward or backward, up arrow key for you to fly up, down arrow for you to crawl. Flexible use of arrow keys together to create flexible movement for your character. In addition to this interesting game, our website also has other interesting games, you can play other games or invite your friends to play. Wish you happy gaming.