Feed Us Lost Island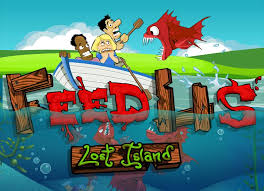 Description
:
Feed Us Lost Island
Feed Us Lost Island  is an ocean conquest game. In this game you will control your ferocious fish to eat people on the sea and the other fish to get more money, increase the amount of blood.
The fish is about to eat and it will attack no matter who it is, in a boat or on a big rock, biting them many times so that they will bleed until the skeleton remains. It can also eat other fish, smaller fish or larger fish but try not to let other fish eat it. When people or fish are bitten by you, it will create blood clots, you need to eat these clots to increase blood for yourself.
The money you earn from each bite of a certain character can be used to upgrade. You can go to the store to equip the fish with fins, tails, teeth … so that it can perform more abilities such as faster moving speed, jumping higher and farther. …
Travel around the ocean and search for things that will work for you, accomplish your goals and upgrade into an invincible fish for you to fully master this ocean.
This game includes bloody horror images, so it doesn't
suitable for children or those with weak spirits … Because maybe it will affect the psychology of those people.
The game introduces several new features, including customizing your fish, improving graphic quality and playing games and tons of new targets to eat and avoid enemies. There are six worlds together with challenging goals.
And it can be played online or offline with just a small mobile device, so you can play anytime, anywhere. Playing online will help you to store your results in the global rankings, you will know if you are in it or in what position you are and who you need to beat to win. .

How to play Feed Us Lost Island

Feed Us Lost Island is played via left mouse click.