Hanger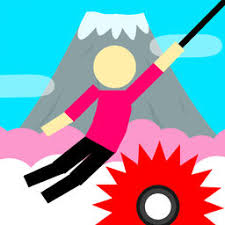 Description
:
Hanger
Hanger is an interesting action game by swinging the rope like a monkey. You will control your character to fly over the roads filled with dangerous traps.
Control your character to float in the air, not let him touch the wall, the road, the sharp saws … if touched, he will lose some parts depending on the sets. the fate he touches, it is possible that he will be completely robbed of his life. Your character can shoot white wires that attach to walls like a spider so you can easily help him stay in the air.
Your moment when you shoot the strings is the key to help you advance further in this game, press too soon and you will be too high and hit till late and you will be too low leading to lost body parts, pressing Keep the cord from being released. The farther you go the further the score you get. Collect coins to unlock new characters.
This is a popular game with the participation of many players around the world. Colorful graphics and addictive gameplay combined in the game will help you have fun experiences about this game.
This is a completely free game so you can play online or download to play when there is no internet connection. Playing online will help you save your results and put it in the global rankings if your results are high.
The images of this game are scary especially when your player loses some parts, so children should not play this game, it will affect the physiology and ability to play. development.

How to play Hanger

Hanger, you just need to use the mouse to control the movement of the character, left click to shoot the rope at the wall edges and move. Join this game many times to practice skills and conquer this game.