Raze 3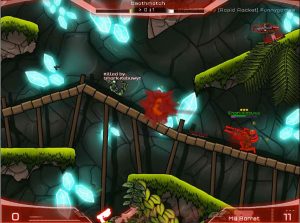 Description
:
Raze 3
Raze 3 requires you to destroy all aliens to get back Earth. You can choose a quick game mode or human campaign mode. Depending on each mode, there will be it's own interesting.
The game takes place in the Earth and has been invaded by aliens about 10 years ago and they have turned the Earth into a base since then. With unyielding strength and will, the people on Earth did not surrender, creating an elite army and training hard enough to wait until they have the ability to return to fight outsiders
You will be the leader in this game, you lead your army to overcome difficulties and obstacles and destroy aliens.
When you play in the human campaign mode, you will join the army in battles with many challenges and difficulties. The doors need you to be a pioneer and can use your sword to block other weapons … the battleground has been arranged in advance and requires rules and strange agility to overcome. There are many levels of play, when you complete each level, you will play in the next level. After completing each mission, you can upgrade weapons to help you become stronger and use them effectively so you can defeat the enemy.
When you play in fast mode, you set your goal as to the number of aliens you need to kill, the number of teammates you join to destroy them and join a quick match to win win.
Both modes can customize their characters such as naming, changing equipment, costume colours, and performing a variety of other options. Then you will join your army to participate in the battle and in each battle there are many weapons and items for you to collect, those weapons help you to destroy aliens quickly first. when killed by them. You will be given a certain number of lives when you die you will be reborn.
How to play Raze 3
Raze 3 requires players to react very flexibly, using a combination of arrow keys or WASD or to move. Left click to fire. Space bar to jump. Q / E (or Shift / Enter Key) to select a weapon in front or behind. F or Ctrl to use sword. 123456: to select special weapons to use. Esc / P to pause the game