Tank trouble 4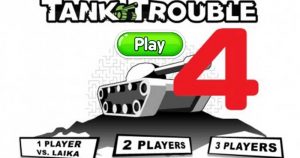 Description
:
Tank Trouble 4
Tank Trouble 4 is a tank game that fights with each other to become the last survivor. You will take part in battle in mazes with straightforward but challenging gameplay.
The enemies in each match can be computer players, or you play in reality, and the number of players depends on the model you choose. With 4 specific game modes like:
4-player mode: You will fight with 3 other real players, sitting directly with you in front of the computer screen. The same goes for 3 and 2 player modes. In 1 player mode, you will fight with computer characters and play on average or hard.
Choose one of the game modes depending on the number of friends you play with and then join the match.
The enemy and you both have the ability to fight, take items and move in the same maze, only different in color. You and the enemy can fire multiple bullets at the same time to destroy the enemy. The projectiles will reflect in different directions until they meet the target or hit the wall until they disappear. Therefore, you need to observe and analyze the matrix to choose the appropriate location and flexible movement as well as use tactics with weapons to avoid the opponent's attack and to avoid the bullets of the main. yourself and destroy other tanks.
There are many items in each maze, players can take any items and use them. Items that help the tank to increase its power and improve its weapons such as missiles, lasers, … Items that help you kill enemies much easier and faster. You need to use items reasonably to destroy enemies, when you take an item you need to use the item to be able to take and use other items.
You need to observe and analyze the matrix carefully, choose the appropriate position and strategy to shoot enemies.
When you go destroy all the tanks you will unlock the next maze.
How to play Tank Trouble 4
The game has controls depending on the game mode, for example using the arrow keys to navigate and M to shoot in 1 player mode. It would help if you combined these keys flexibly to control the tank in the right direction.